Summer Slam is fast approaching. Before the weekend, updates on a few Superstars who have been in the injured list for months were revealed.
Charlotte Flair, who had cosmetic surgery plans to return at the end of the month.
Kane's injury is Kayfabe (He wasn't really injured) and was WWE's way of writing him off TV. As a reminder, Glenn Jacobs (Kane in WWE) is running for mayor of his hometown Knox County, Tennessee. Even though everyone in his hometown knows he's a WWE superstar and many WWE fans know he's running for mayor, WWE needed to write him out of TV for those who may not know more or less. His recent return to WWE leading up to Extreme Rules was expected to be brief and this way, the door is open for a return down the road.
Jason Jordan will return "When it is storyline appropriate", meaning he is cleared to return. My guess is he will first feud with Baron Corbin, then reunite with Chad Gable to reform American Alpha on RAW. The two were split up to build them separately. Although neither won a title after being separated, the obvious mega push Jason Jordan got as RAW GM Kurt Angle's Kayfabe son clearly failed to help get him Over. Chad Gable, who was paired with Shelton Benjamin on Smackdown Live after Jason Jordan was moved to RAW made the switch himself as part of the Superstar Shakeup after Wrestlemania.
Dean Ambrose is expected to return at the end of the summer. Ambrose tore his left tricep in January, leaving Roman Reigns as the only Shield member yet to miss Wrestlemania due to injury. Seth Rollins was forced to miss Wrestlemania 32 due to injury.
Jeff Hardy's attacks from Randy Orton this week is clearly setting the stage for his exit so he can focus on the injury he was been working with for the last few months. He avoided using the Swanton Bomb in Live Shows because of it as well.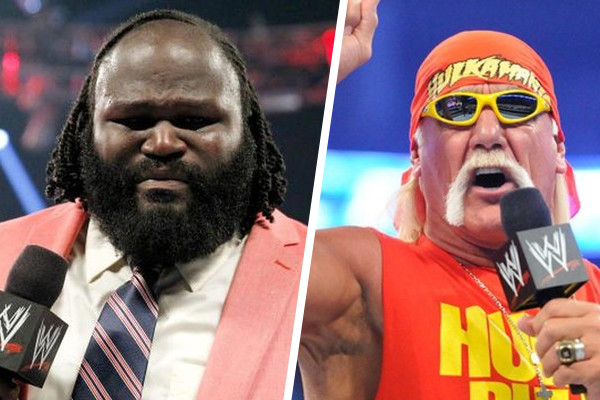 As folks have heard by now, Terry Bollea– more commonly known by his wrestling name, Hulk Hogan–was just reinstated into the WWE Hall of Fame. The Hulkster was suspended from WWE three years ago. Almost to the day. I broke the news here back then.
2018 WWE Hall of Fame Inductee Mark Henry revealed in interviews since Hogan's reinstatement the reported apology he previously said Hogan would have to do say to the current roster happened in the locker room before the start of Extreme Rules. After he apologized, which everyone saw was clearly sincere and remorseful, he issued a warning based on his situation that they be careful what they say publicly because they they might be recorded and don't know it.
That's what happened to him though I am not trying to excuse what he said. He didn't know the racially inflammatory comments he'd made–comments he made 8 years before he was suspended–had been recorded at the time he made them. Those comments got him exiled from WWE in 2015. The suspension was a statement that no one, not even Hogan was untouchable.
Although the Hulkster clearly missed the money, more than that he spoke to Mark Henry about how his life changed when word of what he said spread and how people looked at him afterward. That bothered him more than anything and unsurprisingly, Mark Henry offered to personally help him rebuild he reputation.
While it's not known yet who reached out first, i would not be surprised at all if it's revealed Mark Henry had a role in Hogan's reinstatement. He has been pushing for Owen Hart (died in a freak accident during a WWE PPV in 1998) and Chyna (died from a drug overdose in 2016) being inducted into the Hall of Fame for some time as well.
According to Mark Henry, the Black Superstars are 50/50 on Hogan's reinstatement (!). It's not like they don't know about what he said, mind you. They can also separate that from him being the face of WWE during the 1980s. Overall, most WWE Superstars–and I mean in general–hold themselves to very high standards compared to Hogan's heyday. They do so much outside the squared circle so…yeah. If one of them said it, that would've been career suicide.
In the 48 hours since Hogan's reinstatement, The New Day answered requests for comment with this lengthy statement posted by Kofi Kingston via Twitter:
"To the WWE Universe and whoever else it may concern:
This will be the only statement we will make regarding Hogan's reinstatement into WWE's Hall Of Fame. We do not wish to spend the energy debating the point, because between our kids, our external values, and this job, our energy is spread thin enough already, lol.
We are only writing this simply to provide an answer to the many who have bombarded us with questions on where we stand on the issue.
We preface this statement by emphasizing that this is our own opinion and may not necessarily reflect the opinion of anyone else affected.
How do we feel? Indifferent. We are not happy, or sad, angry or resentful. Who WWE puts into the HOF is totally and completely up to the company and from a career standpoint, there is no argument on whether or not Hogan should have his place. We have no problem with his re-induction in the slightest degree. It is impossible to even begin to mention the history and evolution of the business without mentioning his name and accolades.
On a personal level, when someone makes racist and hateful comments about any race or group of people, especially to the degree that Hogan made about our people, we find it difficult to simply forget, regardless of how long ago it was, or the situation in which those comments were made. But we also do not respond with more feelings of hate. Instead, we just do not associate with the people who convey or have conveyed this negative and hurtful mindset. This instance will be no different. Perhaps if we see him make a genuine effort to change, then maybe our opinion will change with him. Time will tell.
Through the course of our lives, people have used racial comments towards us and it doesn't feel good. But if we stopped moving forward everytime we were met with prejudicial hatred, then we would have never achieved our current accomplishments.
We know we are worth it, we know our kids are worth it, and most importantly, we know that people that look like us are worth it and always have been. There isn't a person on this planet who will be ever be able to say anything to make us think otherwise because we believe in ourselves as a people and don't need anyones approval on that, regardless of who they are.
Having said that, his reinstatement won't change anything for us. It will have zero effect on our ability to perform or the level of effort we put into doing what we love to do, and that is: To deliver an entertaining product each week for our fan base.
Sincerely,
-The New Day
"Never trade authenticity for approval."
The neutral reaction matches up with most of the opinions voiced by Black Superstars at the news of Hogan's reinstatement. Most are more interested in seeing Hogan back up his words with action. Not that they're personally interested. They would like to see him back up his words with action is all.