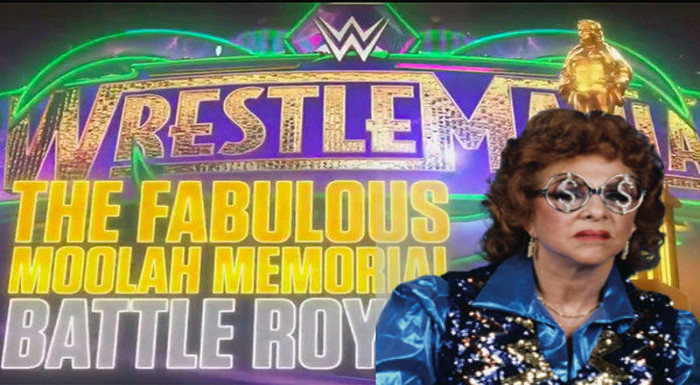 …For those who don't know her background, Mary Ellison aka The Fabulous Moolah is one of, if not the most decorated Female Wrestler ever. She held the Women's Championship for 10 years. She was inducted into the WWE Hall of Fame in 1995. She won her last title at the age of 75 and made various appearances on WWE programming until her death in 2007. No one questions her wrestling accolades, which are many and that is what WWE focused on when the Women's Battle Royale was originally named in her honor.
…The problem is the rightfully placed outrage stems from her shady practices as a manager and trainer. The daughter Sweet Georgia Brown (real name Susie Mae McCoy), who was one of her proteges alleged Ellison had her raped and kept her drugged to control her as well as stiffed her earnings. Ellison denied the alligations until Luna Machon–some of you may remember her from her WWE days in the early 90s–came forward. When she was 16, Ellison sent her to pose for an older male accuaintance of hers. It wasn't nude but that doesn't make it any less shady. Other women who attended her wrestling school or worked her promotion would come forward with similar stories, saying Ellison demanded "Personal Services" before they would be paid.
Anywho, since the was before "The Incident"–I'm referring to Chris Benoit's Double Murder-Suicide–WWE overlooked the alligations and chose to focus on her wrestling stats. She is considered The First Lady of WWE alligations aside so…yeah. All that said, being reminded of what kind of person she was forced WWE to take immediate action and change the name of the event to the Wrestlemania Women's Battle Royale.
I do think the new name is a placeholder. In fact, I wouldn't be surprised if WWE announces a new permanent name in another female wrestler's honor before Wrestlemania 34. They have plenty of time.
A few names that immediately come to mind:
Chyna: She was known at The 9th Wonder of the World (Andre The Giant was the 8th). She died two years ago at the age of 46 from a drug overdose but most choose to remember her before her fall. She is one of two women in WWE history–the other being Lita–to have won the Male-exclusive Intercontinental Championship. She was a part of the Degeneration-X stable along with Triple H and Shawn Michaels.
Trish Status: She wasn't one of my personal faves but everyone knows who she is and what she's done so…yeah. A VERY safe choice.
Lita: Same as Chyna and Trish.
Charlotte Flair: She's been on the main roster for 3 years and is already a First Ballot Hall of Fame Inductee when she decides to retire. She is the only Female wrestler to have been NXT Women's Champion, Divas Champion (retired at Wrestlemania 32, she was the title holder), RAW Women's Champion and Smackdown Women's Champion.
…I could go on. It would be very interesting to see if WWE publicly explains why they're changing the name's event more than who it will now be named in honor of. That will be really interesting to find out ^_^