…This is Nia Jaxx's right hand shortly after she cold-cocked Becky Lynch in the face on RAW, forcing the Smackdown Women's Champion to miss her Survivor Series match with RAW Women's Champion Ronda Rousey. Nia tweeted the picture after Lynch and Rousey, now unable to have their match because of her took their (Kayfabe) beef to Twitter. Lynch responded, saying she'll get some payback later.
…Charlotte's quip at the end is just priceless.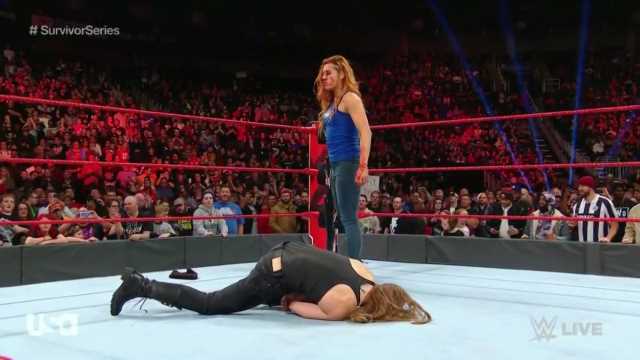 …Mind you, Lynch and Rousey WILL have their day in the ring. The delay sucks but kudos to WWE for allowing the beef to continue online. That may be a sign the intended match could happen sooner than later. At the very least I am expecting the beef to continue on-screen the RAW after Survivor Series.
As for Nia Jax…whew.
The heat she has been taking since the incident has been intense not just from the wrestling world and fans but backstage, too. More so given this is not the first time she badly injured a superstar just this year. Zelina Vega missed a few weeks after Jax threw her on Tamina at Evolution. Alexa Bliss missed a few weeks after being injured during their match at Wrestlemania 34.
The unfortunate reality is Jax is getting a reputation as a dirty wrestler and that may be one of the reasons for the sudden Heel turn two weeks ago. Of course, no one is calling for her to be fired–and let's be honest, no way in hell will WWE risk pissing off Dwayne "The Rock" Johnson by firing her–but she should and likely will be punished.
Kayfabe having her lose her title opportunity and then being taken out of the title picture until after Wrestlemania 35 makes the most sense to me. She has a feud with her now former friend Ember Moon. She could be forced to put her status as #1 Contender on the line in a match, then lose. She's then demoted to putting over Midcards in the Women's Division and let's be honest, the RAW Women's Division needs a solo credible Heel (The Riott Squad is a team) and more so with Alexa Bliss on the shelf. Mickie James and Alicia Fox aren't strong enough so…yeah.
…This screenshot though.
Becky Lynch doing another invasion SOON needs to happen. If I remember right, Lynch should clear the Concussion Protocol by this time next week (I believe it's 7 to 10 days). For those who don't understand why she's in the protocol, WWE is not taking any chances after what happened to Daniel Bryan (missed 2 and a half years) and Paige (Same injury as Edge in short) and it's the right call. She's the biggest superstar in WWE right now. You can be damned sure they learned from how they handled Stone Cold Steve Austin (suffered a career-shortening injury before his mega push during the Attitude Era) to protect superstars even from themselves.
She will be back and back very soon.
If you have enjoyed this post or other posts I have made on this blog, please consider making a monetary donation via PayPal. Whatever amount you can provide would be greatly appreciated.