…Of the two titles that changed hands, I doubt anyone was surprised Randy Orton and Bray Wyatt facerolled Heath Slater and Rhyno to with the titles.  Given nothing was really done with Slater and Rhyno after they won the titles–kinda out of necessity so the other tag teams could get some development–I'm not surprised at all they were booked to drop the titles to Bray and Randy.
Alexia Bliss winning the Smackdown Women's Championship is brilliant. She broke Kayfabe a bit during her post-TLC Talking Smack interview. We knew Becky Lynch was being set up to drop the title before the end of the year. What's likely is someone else will be brought into the title picture.
Nikki's the obvious choice but I don't think she'll win it until the Royal Rumble or Wrestlemania. Alexa and Becky will likely contend with Naomi or Emma while Nikki feuds with Natalya, which is clearly what's being set up.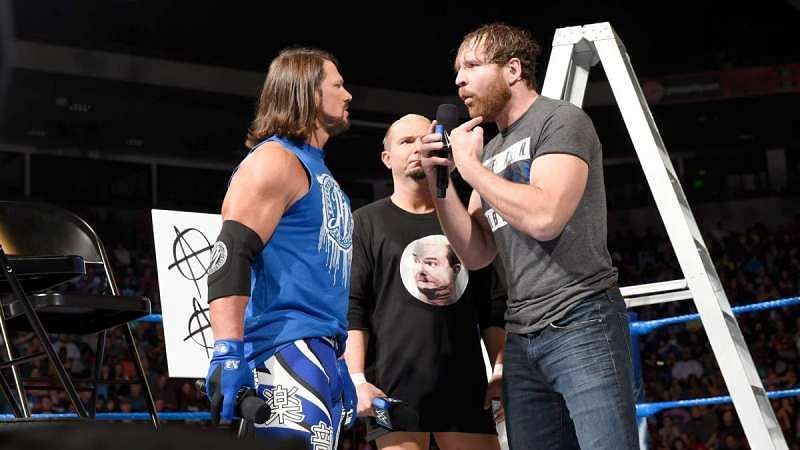 James Ellsworth randomly costing Dean Ambrose the WWE Championship looks like it was a last-minute decision. D-Bry probably knew AJ was going to retain but he likely didn't know Ellsworth was going to get involved. The thing I find hilarious is how…unconcerned about Ambrose coming after him Ellsworth was in his post-TLC interview.
I see this going one of two ways: Ambrose Heel turns while AJ Face turns or Ellsworth Heel turns and feuds with Ambrose and Styles. Assuming it's the first one we could see him win the WWE Championship on Tuesday. Assuming it's the second one, Ellworth will likely drop the title at the Royal Rumble.
We definitely haven't seen Ellsworth's true potential. Not if you haven't seen any of his indie matches. Now that he's Over with the WWE Universe, his focus is clearly on establishing himself as a competent in-ring competator. Should be interesting.

…The feud between D-Bry and The Miz Continues. Talking Smack went off the air with the two shouting at each other.
I think it's safe to say at this point D-Bry is clearly being set up to have a match wth The Miz at Wrestlemania. Officially, D-Bry has a no-compete clause in his contract with WWE. The latest word is WWE is open to clearing him for a match of his choosing.
i say Wrestlemania as that will give D-Bry the time he will need to get himself ready for a sustained match. With the buildup, they want to avoid a repeat of Lesnar and Goldberg's Survivor Series match. That worked because of the superstars involved. They want to meet the expectations of the hype being generated for the eventual match between D-Bry and the Miz.
…Plus there's the fact Brie's due date is around Wrestlemania. Should be interesting!
The next PPV is a rehash of the one that happened between the Royal Rumble and Wrestlemania 32 earlier this year. The difference is this time, Roadblock will be a RAW-exclusive PPV. It is also the last PPV of 2016. The next after it is the Royal Rumble in January,. which will be a cross-brand PPV.
The only confirmed match so far is Roman Reigns vs. Kevin Owens for the Universal Championship. It's fair to expect Triple H to get involved in some way. Of course, this could also mean Seth Rollins might get involved as well. We already know Rollins is being set up to face The Game. It's just a question of weather it will be at the Royal Rumble or Wrestlemania.