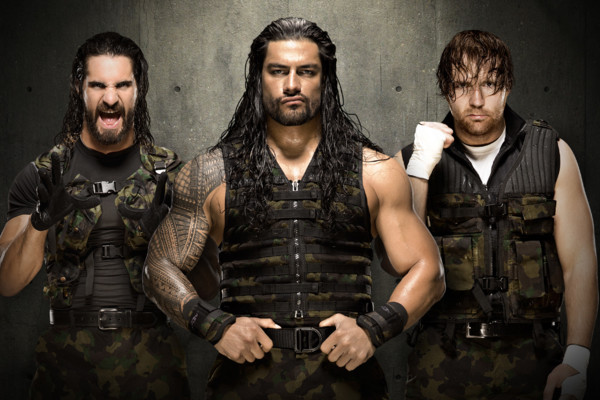 Come on, we all know WWE was just waiting for the crowd to get behind Reigns again. It took Reigns being put over by John Cena at No Mercy last week but now things are set and primed. In comparison, Dean Ambrose and Seth Rollins had a more straightforward path to this point:
Dean Ambrose was the only one of the three who remained a babyface after The Shield split up back in 2014. He is also the only one of the three who didn't miss time de to injury (Rollins) or suspension (Reigns).  Ambrose teamed with Reigns at first during their feud with Rollins and The Authority through the rest of 2014 before he went solo. He would be involved in the Ladder Match at Wrestlemania 31 (which Daniel Bryan won) for the Intercontinental Championship but would win the title himself later that year. Ambrose would win the Money in the Bank briefcase and cash it in on the same night to become the WWE Champion. He would retain the title before being sent to Smackdown after the brand split later that year. Ambrose, alongside AJ Styles would carry the Blue Brand untii Ambrose was sent to RAW with the Intercontinental Championship earlier this year. Ambrose recently made up with Seth Rollins and the two are now the current RAW Tag Team Champions.
Seth Rollins Heel turned after he turned on Ambrose and Rollins, He became the first superstar to be WWE Champion and U.S. Champion at the same time after beating John Cena for the latter title in 2015. He would later defend both championships in the same night a month later, also a first. Rollins was forced to vacate the WWE Championship after suffering a devastating knee injury that sidelined him for 9 months. When he came back, his benefactor–Triple H–turned on him and gave the new Universal Championship to Kevin Owens. This also marked the beginnig of his Face Turn. Brock Lesnar winning the Universal Tile effectively took him out of the title picture for the forseeable future. So, WWE piulled the trigger on having him make amends with Ambrose. The two are now the current RAW Tag Team Champions.
…As of this week's episode of RAW, The Shield is officially back together. All 3 men became WWE Champions after they split. Reigns won gold 3 times, Rollins twice and Ambrose twice, having quite the impressive run on Smackdown Live. On one night, all 3 of them was the WWE Champion: Reigns went in Champion, Rollins won the title and then Ambrose won the title from Rollins by cashing in the Money in the Bank briefcase. It was quite the night!
We know the reformed Shield will have their sights set on The Miz, Sheamus and Cesaro going into TLC. Beyond that, we could see The more experienced Shield cut a path of destruction through the RAW roster leading into the Royal Rumble.