March 14. 2004: Wrestlemania XX.
Brock Lesnar and Goldberg's first Wrestlemania match.
By this time The WWE Universe knew both Lesnar and Goldberg would be leaving the company after Wrestlemania. For this reason, the two biggest up and coming superstars at the time–the WCW Veteran Goldberg and The Next Big Thing Brock Lesnar–were booked in a match with each other. The house crowd made it clear how they felt about both superstars leaving as they made their way down to the ring.
Stone Cold Steve Austin, who had his retirement match against The Rock at the  Wrestlemania was the guest referee. He would later say he was beside himself to not react to the rage and anger from house crowd, who made their feelings known to Lesnar and Goldberg about both superstars leaving. Lesnar, whose contract disputes with WWE were already widely known got it the loudest. This was likely why after the match, he was dropped by Stone Cold to appease the crowd. Austin would share a beer with Goldberg before dropping him in kind as well to appease the crowd.
Lesnar would later go on to have a run in UFC while Goldberg disappeared from the public completely. Lesnar would make his return to WWE in 2012. Now older, wiser and more experienced, it didn't take long for him to quickly erase the memories of how his first WWE tenure ended. Goldberg would make his return four years later in 2016.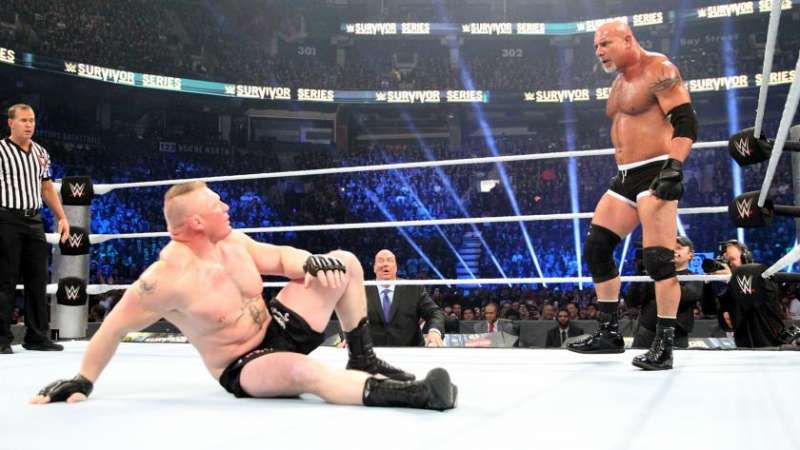 As was revealed in WWE 24: Goldberg, Goldberg tweaked his shoulder during the promo he did with Rusev a few weeks before Survivor Series. This plus the short time he had to prepare for Survivor Series confirmed why the Survivor Series match was a squash match.
…It's fitting that Goldberg and Lesnar would meet at Wrestlemania 33 given they both left WWE on bad terms 13 years earlier at Wrestlemania XX. Obviously, it was important to Goldberg to erase the memories of his last Wrestlemania appearance not just for himself and his son but for the fans as well.
How fitting that his opponent would once again be Brock Lensar, who was keenly aware of their shared history. The story goes, Lesnar made the call for their Survivor Series match to be a squash match to build towards their rematch at Wrestlemania. Goldberg needed to be Over with the fans so…yeah.
His standing with the WWE Universe restored, Goldberg left the door open for future returns to the ring. Being 50 years old, obviously any future matches he has would have to keep this in mind: His WWE 24 showed the spirit is willing but the ring rust and how long he's been away will be major factors.