A week after Roman Reigns made his return from a 5 month leave of absence, The Shield is getting back together "One More Time. The most dominant faction both together and separate in WWE history will reunite for what may be the last time at Fastlane where they will face Baron Corbin, Bobby Lashley and Drew McIntyre.
As most folks are aware by now–and it was mentioned on the air for the first time–Dean Ambrose will be leaving after Wrestlemania 35 when his contract with WWE expires. He opted not to sign a new contract with WWE. He made it clear the decision is not money-related but has more to do with his on-screen character. He reportely stated he "hates doing hokey shit" and his desire to leave is not money-related. He candidly indicated he's left a lot of money on the table in not renewing.
His wife Renee Young said something interesting that fellow Commentator Corey Graves reacted to on RAW this past week. She said Ambrose is "Moving on to Greener Pastures". Weather this means Ambrose is looking t AEW, NJPW another promotion or just something else entirely remains to be seen. Rollins and Reigns have clearly known about Ambrose's status all along. Is this match at Fastlane just a nostalgia trip…or could it also be an attempt to get Ambrose to reconsider leaving? We probably won't know for sure until next month after Wrestlemania. Like Rousey, Ambrose's last booked on-screen appearance is the RAW after Wrestlemania so we'll see.
I meant to comment on this a few weeks ago but according to various backstage sources, Becky Lynch is Vince McMahon's new "Golden Goose". She ls, We saw what happened with Roman Reigns and John Cena before her: Both were booed week after week by the house crowd as soon as it was revealed they were Vince's favorites. Clearly that doesn't seem to be happening with Becky Lynch, who is the hottest thing in not just WWE but the industry right now.
The last superstar favored by Vince who was a fan favorite and stayed one was Stone Cold Steve Austin. Vince revealed he favored CM Punk a bit more than Daniel Bryan to be John Cena's successor as the next face of the company but then Punk walked out on WWE and those plans were derailed. Vince settled on Roman Reigns, who is the Rock's cousin and would be a company guy like Cena and Austin before him. At least, that was the idea.
We saw what happened at Wrestlemania 31 . I do think fans booing Reigns at Wrestlemania 31 was the reason Vince made the call for Seth Rollins (then a Babyface Heel) to cash in the Money in the Bank briefcase during the match's climax. Lesnar would drop the title without himself or the new top guy looking bad. Three years later, Reigns would be fed to the beast at Wrestlemania 34 to appease the fans.
…Reigns coming back after his latest battle with Leukemia has fans rallying around him for the first time in years. This gives WWE a VERY good "problem" going into Wrestlemania 34 and more so after years of force-feeding Reigns to fans failed. Everyone loves a good comeback story and more so when the person came back from illness or injury. Look at Daniel Bryan from this time last year. Yeah.
The "problem" is like I said, Becky Lynch is the hottest thing in Pro Wrestling and has been since last year's Summer Slam. Charlotte has clearly had a Hall of Fame career at this point but her being Hall of Famer and Wrestling Legend Ric Flair's daughter will always be a sticking point to many. Reigns, Nia Jax and The Usos–all cousins of The Rock–have the same kind of problem. People like to say the only reason they've had so much success is because of who they're related to when that's totally unfair–especially for Charlotte and Reigns. Just look at Cody Rhodes' WWE career. LOL.
My point is Lynch's then intended Heel turn lit the wrestling world on fire. Rather than boo her, fans cheered for her.  The start of her feud with Ronda Rousey at Evolution…that RIGHT THERE was when Vince realized he trapped lightning in a bottle. The Smackdown Invasion the week before Survivor Series was when "The Man" was born.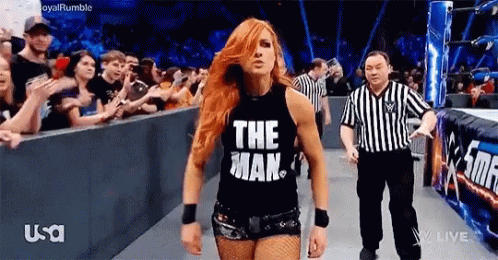 When The Man Comes Around, everyone shuts up and pays attention.
It took 15 years but WWE got its new "Stone Cold" in Rebecca Quinn: A superstar that can and will sell out arenas months and will be talked about for years to come. Even better is she was home-grown and is 100% organic as she revealed in her Chronicle episode back in December.
Bayley dropped some hints a few weeks ago in an interview that WWE will test the waters with real inter-gender singles matches in the coming months. The wrestling world is split on the idea of mixed-gender singles matches but all agree the one promotion that would likely be the first to at least try it is WWE. Bayley along with Nia Jax, Becky Lynch and Sasha Banks (and Ronda Rousey obviously) have all indicated they would jump at the opportunity to compete against some of their Male counterparts.
Some Male Superstars have expressed an interest or willingness to get in the ring with a Female superstar, too. So, it's a matter of when not if.
This bit of news broke on Total Bellas, which aired during the Fastlane PPV.
Brie Bella–real name Brianna Garcia Danielson–announced she is retiring for good from wrestling. Not just WWE but wrestling period. The announcement caught her twin sister Nikki off guard, who commented she always thought it was something they would discuss together first.
The twin sisters debuted together and competed as a tag team for most of their wrestling careers, all with WWE. They both won the now retired Divas Championship on separate occasions. They had a storyline feud with each other at one point that got deeply personal and was a few years before Brie married her now husband Daniel Bryan (real name Bryan Danielson). Brie gave birth to their daughter Birdie Joe in 2017 after announcing her first retirement in 2016 after Wrestlemania 32.
Brie returned to WWE on a part-time basis last year. She competed in the first Women's Royal Rumble and made it to the final 3 before being eliminated by her sister, who was the runner up to the eventual winner Asuka. She teamed with her husband Daniel Bryan for a years in the making feud with The Miz and Maryse, who also recently became parents themselves. The Bellas later teamed with Ronda Rousey to battle the Riott Squad at Super Show Down and then turned on the RAW Women's Champion. Brie was in her sister's corner when Nikki challenged Rousey for the title at Evolution.
My guess is Brie wants to make the announcement from now because Wrestlemania is right around the corner. She did reveal on Total Divas last year she is ready to try to have another baby and that's likely a driving factor in her decision to retire. The fact that she apparently didn't talk to her sister about it in advance should be enough for anyone to know she's made up her mind and clearly thought about it for some time. As she said, she's decided to leave this part of her life behind and focus on the future. As has been the case with others who've retired–most recently Beth Phoenix, Trish Stratus and Lita–that doesn't mean we won't see her every now and then.
As for her sister, all I can say for now is time will tell either way.
News broke the morning after Fastlane that 2013 Hall of Famer Booker T will join Ric Flair and Shawn Michaels as a 2-time WWE Hall of Fame Inductee. He will be inducted along with his older brother Stevie Ray into the 2019 class, who were 10-time WCW Champions as the tag team Harlem Heat.
I kinda had a feeling WWE had something planned for Booker T when a collection featuring his "King Booker" persona was added to WWE Network a few months ago. Most in WWE know Booker T is a 5-time (5 time, 5-time, 5-time, 5-time) WCW Champion and hence his first Hall of Fame induction back in 2013.
One of the brothers' few regrets professionally was they never competed as a tag team in WWE. Stevie Ray stepped away from wrestling in 2000 after the birth of his daughter so he could watch her grow up. They had actually become estranged for several years but made up at Booker T's Hall of Fame Induction.
Booker T went to WWE after WCW folded as a singles competator for several years. His King Booker persona was perhaps his most memorable run and more so for him since his wife Sharmell joined him during that run. After he retired, Booker T continued his involvement with WWE as a commentator for several years.
Booker T actually does run his own promotion based out of Houston called Legends of Wrestling. He his brother teamed up for a one-off in his promotion back in 2015. I mentioned earlier the brothers has a falling out years earlier. It was about deciding on the name of their promotion at the time. He's still got it but has sworn off getting back in a WWE ring unless it's for his own promotion or will be a one-off. When asked, he explained in an interview he doesn't want to take away from current talent in WWE who are competing for air time. Such a classy guy.
Speaking of his wreslting promotion: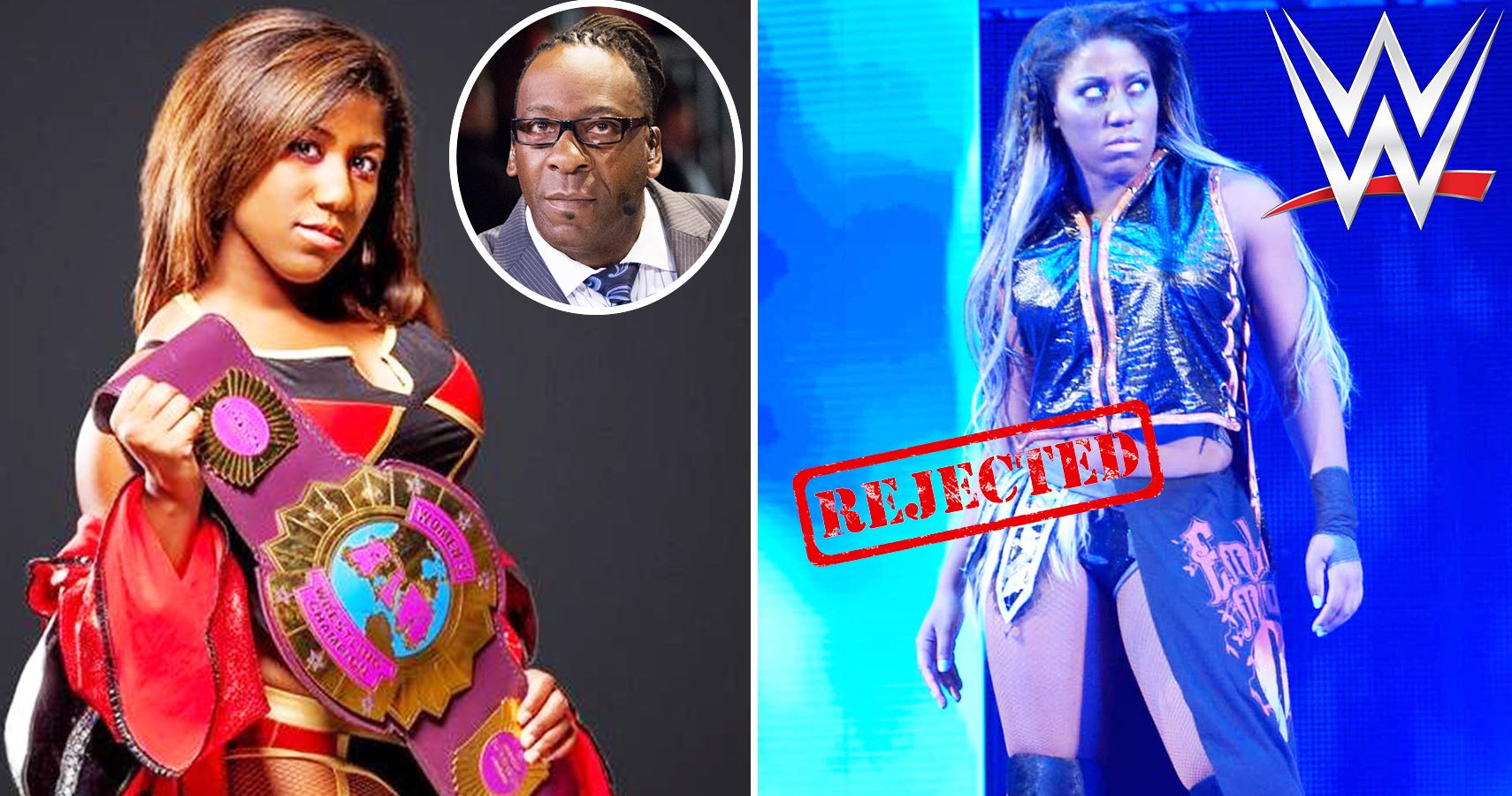 Everyone knows the story by now that Ember Moon was initially rejected by WWE way back when because she "doesn't have the look like of Diva". This was back before ECW was turned into the development brand NXT. Booker T took her in and traned her in his promotion, ultimately giving The Shenom another route to her dream of becoming a WWE Superstar.
She's likely recovered from the emergency shoulder surgery she had to have several months back but her reintroduction is likely being pushed back until after Wrestlemania because of everything going on right now.
…It's been confirmed after Fastlane that The Divas of Doom–Beth Phoenix and Natalya–may be getting back together one more time. Nia Jax and Tamina attacked Beth Phoenix, who was a guest commentator during the former team's match vs. Sasha Banks and Bayley for the Women's Tag Team Championship which they failed to win. Natalya rushed down to the ring to help the Glamazon.
Most folks tend to forget Natalya came into WWE during the height of Beth Phoenix's WWE career. Her first few years in the company were overshadowed by the more known Beth Phoenix, Trish Stratus, Mickie James and many others. Natalya has the same problem now where she is being overshadowed by the current top women in WWE.
Most agree if the Women's Tag Team titles were around 10 years ago, The Divas of Doom would have won it more than a few times. Why they're being booked to face Nia Jax and Tamina at Wrestlemania and not the Women's Tag Champs makes no sense to me. I forgot to mention this but the Women's Tag Titles are cross brand meaning they can be defended on RAW, Smackdown or NXT.
I think the right thing to do would be to would be to have a Fatal Four Way Tag Team Ladder Match at Wrestlemania for the titles involving The Boss and Hug Connection, Nia + Tamina, The Divas of Doom and The Iconics. The Iconics expressed an interest in the Titles during the Fastlane Kickoff show. They could insert themselves as the contenders for the title but then Natalya + Beth and Nia + Tamina are added to make it a Fatal Four Way Tag  Ladder match. It would be pretty epic to watch.
If you have enjoyed this post or other posts I have made on this blog, please consider making a monetary donation via PayPal. Whatever amount you can provide would be greatly appreciated.