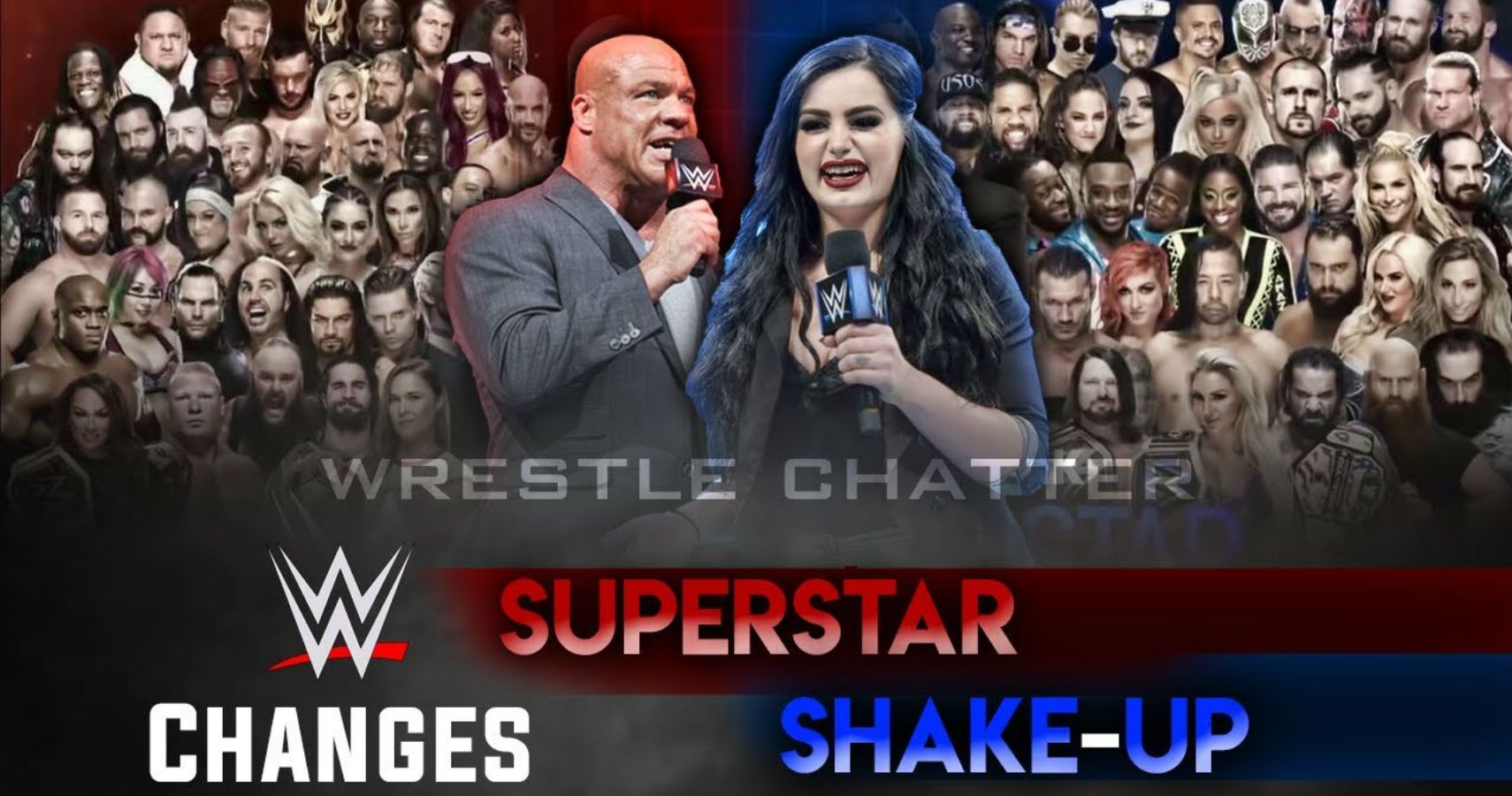 …As of this writing, no roster changes have been leaked. I'll give WWE credit for making sure no one knows in advance including the superstars themselves.
Last year, we knew the Intercontinental Championship and the US Championship were changing brands a few days in advance. Dean Ambrose, who was the IC CHampion at the time went to RAW while Kevin Owens, who was the US Champion at the time went to Smackdown. Ambrose dropped the IC title to The Miz (who also came from Smackdown at the same time) but the real reason he was brought to RAW was to set up the reunion of The Shield.
Charlotte Flair and Alexa Bliss, who'd both just lost the RAW and Smackdown Women's Championships respectively at Wrestlemania 33 were traded with each other. They would go on to become the first Superstars to hold the top title on both brands (first Alexa, then Charlotte).
The Superstar who benefited the most from last year's Roster Shakeup was easily Jinder Mahal, who went from RAW to Smackdown. He would become the WWE Champion at Backlash and had a long run before AJ Styles finally took the title from him. The Modern Day Maharaja just became the U.S. Champion at Wrestlemania 34 to boot.
Given Drew McIntyre is expected to (re)debut on the main roster soon and Heath Slater is on RAW, we may see the reunion of 3MB. Mahal and McIntyre are both Heels so for 3MB to reunite, all three would have to be on the same show which would mean Slater and Rhyno would have to split up as a tag team.
I have a feeling Vince will be directly involved with the Shakeup this year for a few reasons, one of which is obviously Kevin Owens and Sami Zayn. The pair were permanently fired from Smackdown Live and are now trying to get on RAW. Steph is clearly going to be out of the picture after having her arm broken by Ronda Rousey twice in 24 hours. My theory is this mystery person we keep seeing Kurt Angle on the phone with is actually Vince, who is telling him how to handle certain situations that come up.
…All that said and without further ado, here are my picks.
First, Smackdown to RAW:
AJ Styles (Current WWE Champion) or Daniel Bryan
Bobby Roode or Baron Corbin
Dolph Zigger
Jimmy Uso
Naomi
Natalya
Kofi Kingston
Xavier Woods
Ruby Riott
Nikki Bella
I do think we will see both former Smackdown Tag Team Champions broken up.  Big E will be retained on Smackdown Live to either have a solo run (which he hasn't had much of since coming from NXT) or team up with Jey Uso to feud with The Bludgeon Brothers for the Smackdown Tag Titles. WWE tends to keep married superstars together so Naomi and Jimmy Uso would both go to RAW.
AJ Styles recently stated again that he wants to stay on Smackdown ahead of the Roster Shakeup but I do see him being moved this time. If not him then Daniel Bryan. One but not both because they are the two top Faces who is not named Randy Orton. Same with Bobby Roode and Baron Corbin. I see one but not both being sent to RAW though I'm leaning toward Corbin being the one who gets moved. Dolph Ziggler being moved at this point seems just right unless he's being given a run at the WWE Championship.
Ruby Riott being moved now makes sense given Billie Kay and Peyton Royce just made their main roster debut from NXT. It makes sense for her to be moved to have RAW for a solo run while the other two members of her stable form a tag team. Nikki Bella and Natalya would round out the Smackdown Exports to RAW as well for a total of 10 Superstars (6 Male, 4 Female).
Nikki come back for her sister Brie's redebut and they would be a tag team. Brie took time off to have her baby and was never drafted to RAW or Smackdown so…yeah. They would also serve as anchors for the new talent coming in from both NXT and Smackdown.
Now, RAW to Smackdown:
Asuka or Ember Moon
Sasha Banks
Alexa Bliss
Bayley
Samoa Joe
Finn Balor
Jeff Hardy
Luke Gallows
Karl Anderson
Heath Slater
Sheamus or Caesaro
Big Cass
I would be very surprised if Ember Moon and Asuka were kept on the same roster. I also think now would be the time for WWE to reunite The Four Horsewomen on Smackdown (Charlotte Flair, Becky Lynch, Sasha Banks and Bayley). Alexa being moved back to Smackdown makes sense for who will be going to RAW + Ronda Rousey.
I do think WWE will give The Shield Reunion another shot when Dean Ambrose returns from injury so that means Roman Reigns and Seth Rollins wouldn't be moved. That said, it makes sense for The Bullet Club to be moved to Smackdown where they could link up with AJ Styles and have a 4-man stable. Gallows and Anderson could also feud with Benjamin + Gable or The Bludgeon Brothers, both of whom are Heels.
Jeff Hardy being moved now would make sense only if he's being set up for a title run. I also see Sheamus and Caesaro being split up to compete as singles competators. Whoever goes to Smackdown could be set up to contend for the WWE Title while the other could contend for the Intercontinental Championship. Samoa Joe could compete for either title and at this point he could use a title run after having his pushes stalled due to injuries,
Big Cass could be paired with Mojo Rowley to form a new tag team. Heath Slater being moved would be to set up the reunion of 3MB on Smackdown. Jinder Mahal is already there while Drew McIntyre is expected to make his main roster (re)debut from NXT soon so the band will be getting back together! So it will be 12 Superstars total (8 Male, 4 Female) who will be going from RAW to Smackdown.
…Anywho, these are my picks. Like last year, I will recap the Roster Swaps as they're revealed. I will cover both in one post which I will make later thiis week. The Smackdown to RAW swaps will be revealed tonight but remember: Weather or not someone appears on a show has no bearing on weather or not they will change shows.