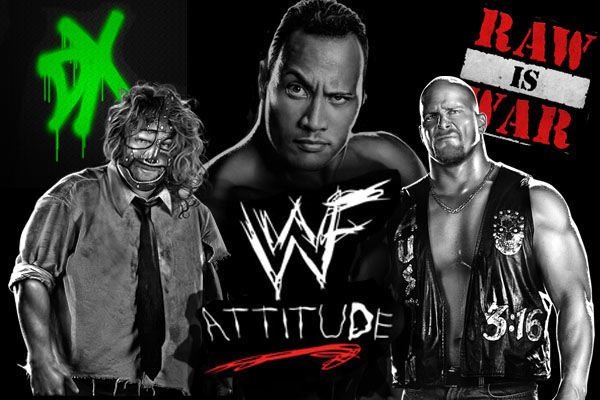 Read the full article here. For the most part, the author is on point.
The author drives home the unavoidable fact that the product has greatly changed since The Attitude Era. Much of what was either allowed or worked then is either no longer allowed or wouldn't be allowed now. That's a fact.
That said, here are my thoughts on the 10-point Op-Ed:
10. Overbearing Authority Figures
I agree, this trope has been done to death and needs to be put down. Fans are clearly tired of it.
It worked during The Attitude Era because of how well the Austin vs. McMahon feud had been set up and executed. As we know, developing character storylines happens to be Vince's specialty. We all know that legendary first Stunner by Austin was his idea. Later in the feud, Vince actually hit the gym and worked out so he could get in the ring himself, further adding credability to his "Evil Boss from Hell" Persona and cementing Austin's place as the top Superstar at the time.
The Authority, on the other hand fails at what it's supposed to do. Why? Triple H and Steph take it a little too far most of the time. Yeah, we get Trips can still wrestle and only does once or twice a year to put someone over–most recently Seth Rollins and Roman Reigns–but he can put people over in other ways. Handing KO the Universal Championship while screwing over Seth Rollins last year was an excellent example of this.
The author's last point–the need for benevolent bosses–is spot on. Kudos for pointing out the Babyface Shane and D-Bry. WWE seems to have come to the same conclusion for RAW with having brought in Kurt Angle as GM. Steph hasn't been seen since Wrestlemania (she's been doing promotional work behind the scenes) but we know she will have to return eventually.
9. Modern Commentary
Let's be honest, Jim Ross is the GOAT when it comes to Wrestling commentary. No one else comes close. He can make the most mundane match or storyline feel epic. Hell, The Undertaker specifically requested him for his retirement match at Wrestlemania 34. All that said, JR is no longer with WWE and hasn't for some time. As I just mentioned, he is open to working pro bono every now and then if asked though. He is also well versed with the current happenings within WWE.
Jerry "The King" Lawler was good when he wasn't being crass while paired with JR. He was often the Heel while JR was the Face though sometimes they would both be Face. Lawler should've been removed from commentary after The Monday Night Wars ended. I feel like that's what made the transition when JR left so hard for many fans. Lawler felt out of place calling matches during the PG Era without JR.
Michael Cole (RAW) and JBL (Smackdown) are the vets on commentary and are solid. It helps they can switch so fluidly between Face and Heel. RAW moving the commentary table away from the ring after the brand split last year was a smart move as it opened up the area outside the ring a bit for the cameramen.
Corey Graves is a solid, solid Heel on commentary and it helps he is probably legit pissed his in-career was ended due to injury. Byron Saxton is obviously the weakest since he lacks the years and experience of the other three. Even though Booker T was meant to be a filling in for David Otunga, it worked so well it seems they decided to keep him on full-time.
8. WWE's Lack of In-Ring Focus
This is why Triple H created NXT: To help move WWE away from its Entertainment side and more towards its Athletic side. Match quality has improved tremendously as a result and main event matches are no longer Finisher Spamming like they were 10 years ago. Not just PPV but on Raw and Smackdown as well. Nowhere is this more apparent than the women's division. Sasha Banks and Charlotte made RAW must-see last year with their epic matches.
Brock Lesnar going full-power and STILL having trouble against Samoa Joe…that was pretty EPIC. Joe sold the shit out of the feud and had you believing he had Lesnar's number. Don't even get my started on Braun Strowman, who just likes beating people up. Kudos to WWE for putting him, Joe, Lesnar and Roman Reigns in a Fatal 4-Way for the Universal Title. It is true WWE has been overusing multi-superstar matches lately (Triple Threat, Six-Pack, Fatal Four-Way, etc.) but this is one of those times where it makes perfect sense.
Lengthy matches making a comeback is huge as it ads a sense of realism and credability to feuds. It also forces superstars to train their bodies to perform for much longer. Squash matches only happen when it would be the most effective these days. Thanks to the introduction of NXT and 205 Live, the Undercard is virtually non-existent. You have midcards, Upper Cards and then you have the Underused or Underutilized.
7. Triple H
I touched on this above but Triple H needs to be used far less. It goes without saying he and Steph are prettymuch Vince McMahon's stand-ins via The Authority. What tends to happen is Trips either buries the talent he's trying to put over (Seth Rollins, RAW last year involving KO) or he buries the talent he's supposed to be putting over (Roman Reigns, last year's Royal Rumble).
If Triple H is gonna be Vince's stand-in, he needs to check his ego and stop having matches with the superstars he's supposed to be putting over. Like I said before, Samoa Joe vs. Rollins at Wrestlemania was a missed opportunity. Would've been freaking epic.
6. Sanitized "Extreme" Wrestling
This gripe is legit. Just look at Battleground's Punjabi Prison Match. At a glance, it's easy to think "Cage Match on steroids" but nope. This is a big reason why we have only seen 3 Punjabi Prison Matches.
Post-Attitude Era Hell in a Cell matches are a shadow of the first few matches. The first few matches wrote the book on brutality. Mick Foley's career was considerably shortened in his match against The Undertaker. In the very first Hell in a Cell match, Shawn Michaels sold being beaten within an inch of his life. Now unlike most Attitude Era fans, I can appreciate Superstars not wanting to risk their health just for crowd reactions.
When the Attitude Era ended, The Undertaker advised the incoming talent behind the scenes to not take unnecessary risks and risk serious injury just to get over with the fans and get on Vince's good side. Makes sense given his legendary Hell in the Cell Match with Mick Foley (as Mankind). As we all know, Foley falling through the cell was a freak accident. 'Taker's reaction makes it obvious that was not pre-planned. The fall knocked Foley unconscious for 2 minutes. Had it been someone else, the match would've ended right there. Since it's Mick Foley, the match continued when he regained consciousness. Mind you, this match happened the same year Owen Hart died in a freak accident in front of a live crowd broadcast around the world.
All that said, WWE does have enough talent willing and able to go Attitude-Era extreme. I don't just mean Dean Ambrose and Bray Wyatt. I'm talking Braun Strowman, Finn Balor, Roman Reigns, Seth Rollins and AJ Styles among others. On the Women's side there's Charlotte Flair, Sasha Banks, Becky Lynch, Nia Jaxx, Alexa Bliss, Naomi, Tamina Snuka, Carmella and Bayley. It's just a matter of balancing risk vs. reward.
5. Anti-Hero Babyfaces
…Let's be honest, we all know Cena was being set up to be a Stone Cold clone at first. Same with Randy Orton and obviously Lesnar since he's been back with WWE. Problem is there is and was only one Stone Cold Steve Austin.
Regardless of how many times WWE has tried to reinvent the trope, only a small handful pulled it off well. CM Punk easily did it best on his way out WWE. You can credit him for being the one to blend Kayfabe and Reality for the first time in WWE (it's been done elsewhere) and making it work. Paul Heyman would follow his lead, followed by others since CM Punk left the company.
Anyway, back to Anti-Hero Babyfaces. Ambrose, Rollins and Reigns–both separately and as The Shield–are probably the best at it in regards to the current roster. Rollins is clearly a bit too stiff while Reigns clearly needs mic work to get Over completely. Ambrose has shades of Mick Foley but has the unpredictability of Mick Foley and that's why he was sent to Smackdown during the recent brand split to work with AJ Styles. He's durable but lacks the bulk Reigns has and the aggression Rollins has.
4. Heavily Scripted Promos
This should have been #1 and has been my biggest pet peeve. Most of the current roster have little say over their Wrestling Personalities. Everything from what's said to what's done is dictated to them. Let's not forget this is why Cody Rhodes, Ryback (Ryan Reeves) and Wade Barret (Stu Bennett) left WWE last year. WWE can't afford to lose bigger names because of this.
The only ones that I know have full creative control over their characters are Dean Ambrose, Bray Wyatt, Randy Orton (obviously), John Cena (obviously), The Miz (goes without saying) and of course, Paul Heyman. Jinder Mahal told an Indian Media outlet a few days before Battleground he has full creative control over his character but that's doubtful. He probably does have some control but still has a script. Samoa Joe, I'm not 100% sure but if he is using a script he's doing one hell of a job.
3. One-Track Storytelling
I had to read it twice to both understand it and realize it was true about the post-Attitude Era in WWE: Storylines are almost always built torward a Pay Per View event. More so since the recent brand split. This is probably the big reason so many superstars end up either falling through the cracks or end up not being seen for months in somes cases.
It's even more obvious now that Dark Matches no longer happen. For those who didn't know, when RAW and Smackdown were pre-taped there would be 1 to 3 matches that happened but weren't televised due to the then 2-hour time constraint. Since both shows are now Live, Dark Matches no longer happen.
Anywho, WWE needs to get back to single-episode storylines or storylines independent of PPV events. Breezango's current storyline is a great example of this. So is Strowman and and Reigns' feud, which likely won't end at Summer Slam. Throwing in this type of variety will give folks more of a reason to tune in every week or watch via WWE Network. It also forces WWE to utilize more of its talent.
2. The Current Headliners
The article uses the phrase "Mega Star" and that was true of the top talent of the Attitude Era. You had Austin and The Rock at the top with so many choices who could be swapped in at a moment's notice. This was Cena for a while but folks have clearly grown tired of him in recent years. Lesnar's a part-timer but is a huge draw when he feels like working. The article makes the case there is no one on the current roster (excluding the vets) who is or is close to Mega Star Status but I disagree there.
As folks should know by now, Reigns will succeed Cena as the new top guy. That said, it IS a huge problem for their top guy to be getting booed every time he shows his face. WWE will need to reset his character to turn that around. Fortunately, a Shield Reunion–which may happen after Summer Slam–should take care of that.
Reigns aside, Ambrose and Rollins are both Over with Fans. Rollins was over as a Face, a Heel and now a Face again. Enzo Amore being mega-over with the fans is probably the only reason he wasn't cut after his breakup with Big Cass. Even though he's a Monster Heel, the WWE Universe erupts every time Braun Strowman's music hits or he shows his face. On Smackdown you got AJ Styles and Shinsuke Nakamura. If Nakamura wins the WWE Championship at Summer Slam, holy shit.
In the Women's Division you got Sasha Banks, Becky Lynch and Bayley of course. Nia Jaxx as the Monster Heel on RAW never gets old. Same with Alexa Bliss and Naomi.
…So, yeah. All they need is more polish to get even more over than they are. Once they start having more title reigns and have better booking, their popularity will grow more. The superstars just need something for fans to latch on to is all.
1. PG
…Here we go. The one thing all Attitude-Era fans love to turn to as the main reason "WWE sucks now". The fact of the matter is WWE HAD to go this route. Not just to go mainstream but to appeal to International Markets. Plus, by then The Attitude Era was over. This should've been expected.
I view the hate over the PG Era as fans of the Attitude Era who don't want to accept the fact that era is gone. Stone Cold Steve Austin is NOT gonna walk through that door (as a full-time wrestler). LOL.
Save
Save